Welcome to Bay Learning Academy
Bay Learning Academy was established and NZQA Registered in 2012. We saw a need for a school which believed in small classes and student success and set about building an Academy that was firmly student focused.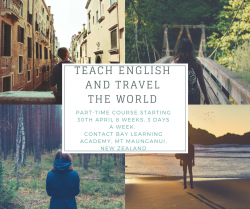 [TESOL – NZQA Level 4 and Level 5. Bookings open for the July 2019 Full-time 4 week, course.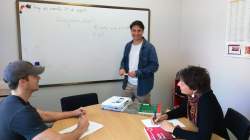 [Spanish]
Beginners: Tuesday 9th July. 6.30pm-8.30pm
Next Step: Monday 8th July 6.30-8.30pm
6 week courses
Learn from a native Spanish speakers.
Mt Maunganui Campus
English
Feel comfortable in a small school
Small classes
Individual attention
Friday Activities
Family atmosphere
One to one IELTS and PTE tuition
Close to the beach!!
Volunteering available
TESOL
Small classes
Moderated Teaching Practice
Graduates teaching all over the world
Auckland Campus
We focus on one course only in Auckland- NZCEL Level 4
Our students love it here. Join us, and find out why!
"Anything to do with student well-being, student achievement and pastoral care is very very good" NZQA EER Lead Evaluator 2019
Professional Development Enrolment Process Language Services